Educational Community Screenings
A Song for Cesar provides important lessons on the value of communities coming together to enact change through peaceful protest and organizing efforts. And, it's a timely and contemporary reminder of the important role of music and art as vehicles for progressive change and social justice.
A Song for Cesar offers a valuable tool for navigating the road still ahead of us.
Colleges and communities are coming together to help ensure Cesar Chavez's legacy and lessons are kept alive through screenings of A Song for Cesar.
Screening & Licensing Information
For general questions and information about scheduling an educational community screening, contact Video Project support at: support@videoproject.org
For ordering and licensing A Song for Cesar, please call or email Video Project Orders at:
TOLL-FREE: 1-800-4-PLANET (475-2638)
EMAIL: orders@videoproject.org
---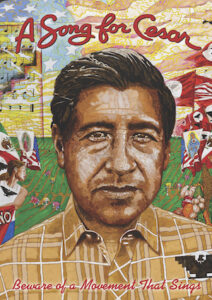 A Film by Andres Alegria and Abel Sanchez
85 minutes
Scene Selection • Closed Captioned • Spanish Subtitles • Bonus Features
Grades 9 – Adult
Item #ASC-2011