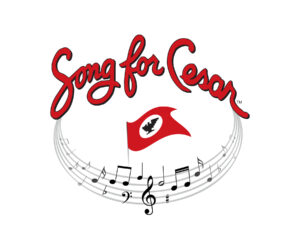 Will you help educate and inspire our communities by supporting Song for Cesar?
The ultimate goal of Song for Cesar is to educate and inspire. Now more than ever, people struggle for justice and to be heard. Much can be learned by recalling Cesar Chavez's brave and peaceful movement that lifted oppressed farmworkers and their families out of unfathomable conditions and created a movement that lives on today.
You can help by:
Following us on Instagram, Facebook and Twitter and sharing Song for Cesar's messages.
Joining the 'Song for Cesar' mailing list to sign up for updates on events and premieres.
Copy this linked logo to post to your website with a link back to www.songforcesar.com to educate others about Song for Cesar and Cesar Chavez's legacy.
Monetary donations can be sent via PayPal or by check. If sending a check, please make payable to: Cesar Chavez Foundation and note on the check Song for Cesar Project. Check should be mail to: PO BOX 62, Keene, CA. 93531
Download Logo

Donate to Song for Cesar
Song for Cesar is an independent film, a labor of love for its two filmmakers. Sharing it with the public – and ensuring its messages of hope and perseverance will be heard far and wide – requires resources.
Your donation will help us share Song for Cesar broadly by supporting the development of promotional materials, and by supporting premiere events and screenings at schools, colleges and universities.
Thank you in advance for your support and partnership!